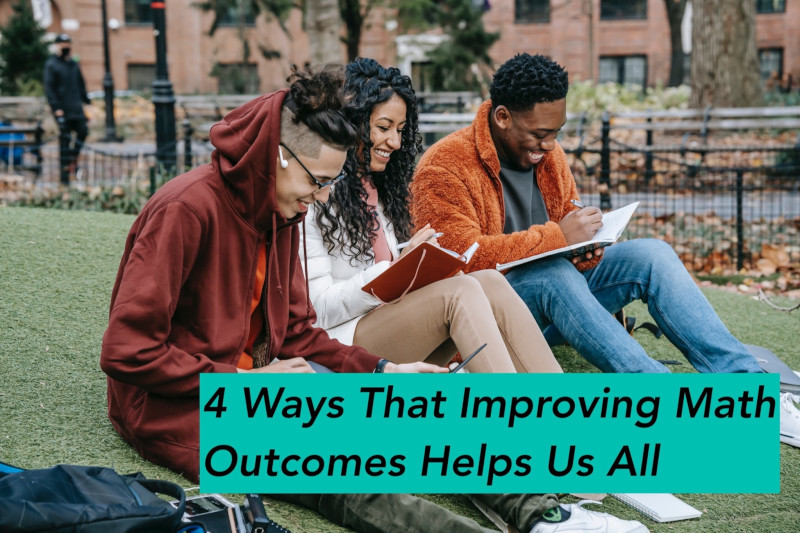 Of all the subject areas we learn in school, mathematics can feel the most esoteric. Many a math teacher has heard the common refrain "when am I ever going to need to know this stuff?" As current and former math teachers ourselves, we admit that the same question has often crossed our minds. Perhaps due to these feelings of uselessness or perhaps due to other factors, math education outcomes have stagnated throughout the United States, particularly in high-need schools. Math Medic Foundation aims to change that. Here are 4 ways that improving math outcomes will help us all.
1. Improved Problem Solving
From everyday issues to societal challenges, the need for problem solving skills is evergreen. The skills we learn in our math classes, specifically inferential and probabilistic thinking, are crucial to our basic understanding of the problems themselves. When we think probabilistically, "We can act with a higher level of certainty in complex, unpredictable situations.1"
Famed statistician Nate Silver tells a story about a flood zone2. Folks in a town were told by the local weather station that there was a predicted flood level of 49 feet. When levees were built at 51 feet, the town breathed a sigh of relief. But the margin for error was 9 feet, meaning there was over a 40% chance the levees wouldn't hold. In fact, the flood reached 53 feet, causing immense damage.
2. More Resilient Economy
We live in a world in which economies are ever-changing due to globalization and advances in technology. Many current and former leaders in K-12 education say math and data literacy should constitute a national priority3. One reason for this is because 20 out of the 30 fastest growing jobs4 require math or math-related skills, including data literacy. It just so happens that these jobs tend to be high-paying and in rewarding fields.
3. Better Life Outcomes
The unfortunate truth is that low math achievement holds many back from attaining higher education degrees. College algebra has been called the single most failed course in community colleges5, at over 50% by some estimates. Since college algebra or developmental math courses are often degree requirements, this kind of failure rate likely leads to lower rates of degree attainment. And we know that educational attainment correlates with many things that we care about, including economic outcomes6, health7, crime8, and voting rates9.
4. Stronger Social Fabric
Like most issues, poor math outcomes disproportionately affect marginalized groups10, escalating high school dropout rates11 and increasing forms of inequality such as income inequality12. When we improve math outcomes, we help reduce inequality, strengthening our social fabric.
So what can we do? First, we can support students that intend to study mathematics or math-related subjects after high school, including those that wish to become educators. Second, we can offer training opportunities to K-12 math teachers, thereby improving the overall impact of math education. Third, we can provide resources and supplies to schools in need. Last, but certainly not least, we can target support in ways that will help decrease achievement gaps.
Please join Math Medic Foundation in our mission to improve math outcomes for all. You can contact us to get involved or donate here
Pete Grostic, Ph.D
Executive Director
1Farnam Street
2Nate Silver: "Think Probabilistically"
3Data Science for Everyone
4Business Insider
5Center for the Analysis of Postsecondary Readiness, 2018
6American Action Forum
7Zajacova and Lawrence, 2018
8Lochner, 2020
9Statista
10Center for Education Policy Analysis
11Statista
12Federal Reserve Bank of Boston
01/17/2022