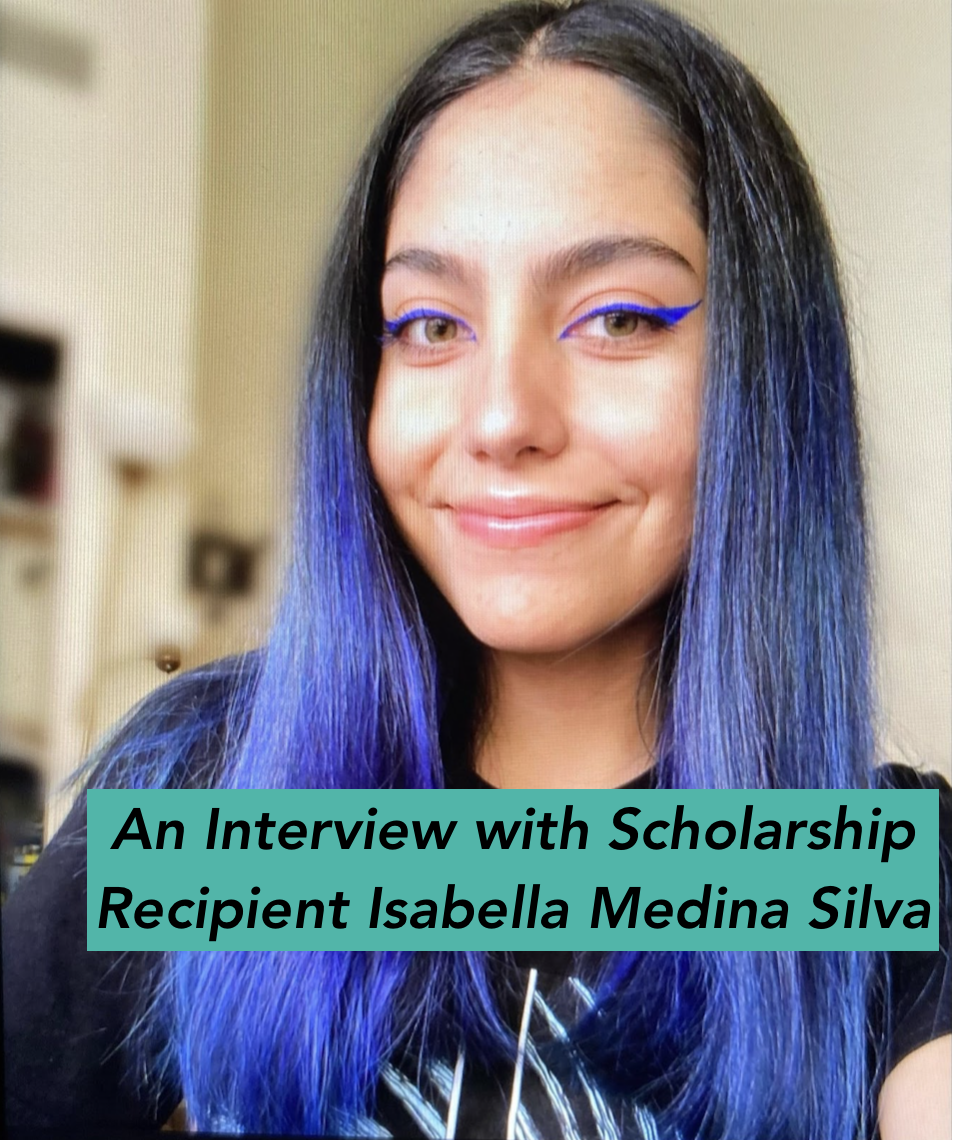 Isabella Medina Silva is in her second year at University of California, Davis. She is majoring in Molecular and Medical Microbiology and minoring in Music. Isabella plans to pursue an MD-PhD and specialize in human immunology. She'd like to work with human pathogens in a clinical or research setting.
Isabella was a 2021 recipient of a $2,000 Fund Your Future Scholarship. We recently had an opportunity to talk with her about life after high school and much more.
Math Medic Foundation (MMF): What was your experience like growing up?
Isabella: My parents have always pushed me to be a better version of myself and they also gave me the values and morals that I have today. I have yet to meet other people as hard working, intelligent, passionate about their work, diligent, and inspiring as my mother and father. I am forever thankful to be their daughter. My grandmother was my role model while growing up. I remember admiring how beautiful and powerful she looked with her suitcase and her flawless work clothes. I remember always telling myself how I wanted to be a hardworking person like her.
When it comes to my childhood, it's a bitter-sweet topic for me. I grew up in a loving home in Mexico, in a beautiful house with a ranch and a river right next to it. The town I grew up in was a very old fashioned place where my family's values and beliefs did not match the ones of most people, causing me and my family problems. There were certain expectations for girls that me and my family did not agree with, and I grew up wanting more and that caused others to see me as a threat. I was bullied for most of my childhood, I was ridiculed for being a scholar focused on science and language, for being different. The bullying got so bad that it began to affect my health and it left me emotional and physical scars that I still have to this day. I eventually left that town and moved to Mexico City, where I got to heal my wounds and prepare for the adventure of moving to the U.S.
MMF: What has your experience with math been like? Have you always enjoyed it?
Isabella: I used to be terrified of numbers, it was the type of fear that would keep me awake at night. Ever since I have a memory I remember struggling with mathematics. I had teachers scold me everyday for having the lowest score of the class, and I had classmates make fun of me for mixing numbers or getting different numerical answers. This frustration grew into resentment towards math, and I closed myself to the idea of me ever becoming good at math. When I moved to the U.S. I grew anxious about taking mathematics in English. If I was bad at the subject in my own language, how could I succeed in another?
Luckily for me, I came across two math teachers that changed my life for the better. When I was a junior in high school I met a Math 3S teacher that had the patience to teach me in ways that worked for my brain, and little by little I saw myself understanding math, not just answering questions based on patterns, but actually understanding the subject. This teacher answered my questions before, during and after class, and most importantly, he believed in me when I was in doubt of my own abilities. I chose to take AP Statistics because of how much I liked Math 3S, and it was definitely the best decision I made because I met another teacher that would open my eyes to my own potential. This AP statistics teacher had all the patience in the world, and I remember she sat down with me and went over a test I did really badly on. She was one of the first teachers that actually talked to me, not ridiculed me for failing. This teacher guided me towards a better way to study based on how my brain worked, and since then I have done good in math. Those two teachers helped me mend my relationship with math, and that encouraged me to continue to follow a STEM education.
So I want to say thank you to Mr. Peet and Mrs. Vandewarker, for believing in me and showing me how capable I actually am.
MMF: What do you like best about life after high school?
Isabella: Life after high school made me more confident in my own abilities, it showed me what I was capable of and it helped me build my character even more. The independence it brought me gave me a sense of fresh air.
MMF: What has been most challenging about life after high school?
Isabella: The most challenging aspect of life after high school for me is not knowing if I'm making the right decisions regarding my future. It's hard to choose what you'll do for the rest of your life at the age of 18. I often caught myself questioning core aspects about who I am, what I stand for, and what I want from life. I changed dramatically in the span of months, and it's stressful to try and figure out who you are while the world moves so fast.
MMF: What advice do you have for current high school students who have an interest in mathematics or math-related fields?
Isabella: The plans you have right now are going to change, one way or the other you will be confronted with challenges that will make you redo those plans, or even get rid of them. STEM careers are challenging, they will drive you crazy, they'll make you doubt yourself and what you're capable of, don't let this discourage you from aiming high.
You'll have days where you'll want to switch majors, where you'll feel like you're about to break, don't worry because you're not the only one going through this. This path is filled with ups and downs, just believe me when I say that the ups are extremely gratifying and you'll be surprised to see how much you can endure.
Don't be afraid to fail, we are all bound to make mistakes. Great minds in the past made mistakes or struggled to get the results they wanted. The key to failure is learning from it, and continuing to move forward. We all fail, but how we deal with it makes us better scientists and people.
You can learn more about Math Medic Foundation Scholarships and Grants, including how to apply, here. If you have questions, please contact us.
01/17/2022