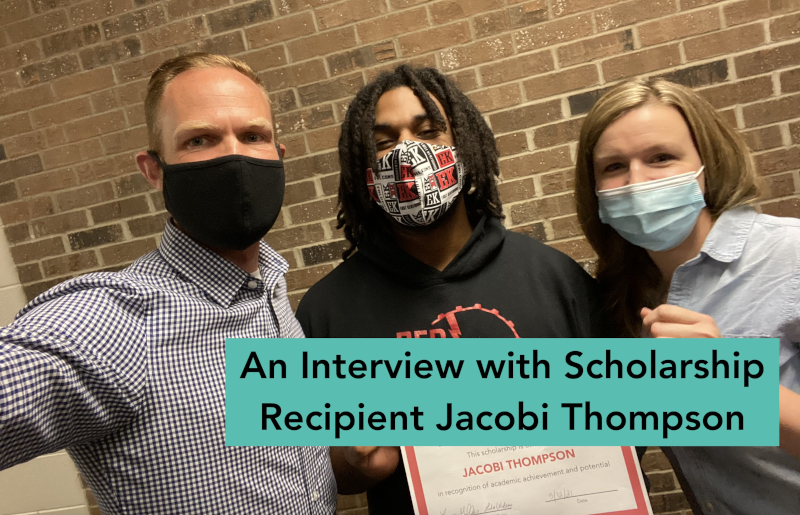 Jacobi Thompson is in his first year at Grand Valley State University (GVSU). He is dual majoring in Computer Science and Tuba Performance. Jacobi plans to pursue a career as an automotive programmer. He'd like to work at Tesla or Mercedes working on next generation automobiles.
Jacobi was a 2021 recipient of a $2,000 Fund Your Future Scholarship. We recently had an opportunity to talk with him about life after high school and much more.
Math Medic Foundation (MMF): What was your experience like growing up?
Jacobi: I grew up with my mom and brother for most of my childhood. Ten years ago my mom went to rehab and came back with some fire under her belt. She taught me how to be better in school, adopted my cousins to give 'em a chance away from their mom, and started her own business doing resale online. Every time I told her I didn't wanna do my work she'd tell me "to be successful you have to hustle, struggle equals hustle, keep trying."
MMF: What was your high school experience like?
Jacobi: After getting a grip on my grades, I joined the track team and weight lifting clubs at EK (East Kentwood High School), attended a volunteer-based youth group with my friends and worked two jobs outside of music and robotics (painting houses and stocking shelves at my uncle's shop).
MMF: What are some of your current hobbies and activities?
Jacobi: I've played the tuba since 6th grade and now I'm a member of the Concert Band and Laker Marching Band here at GVSU. I loved robotics in high school, so now I go back and work with the robotics teams, mentoring middle school robotics teams.
MMF: What advice do you have for current high school students who might want to apply for a Math Medic Foundation Scholarship?
Jacobi: Don't see applying for a scholarship, even a small one, as money you won't use. See it as freeing up your time for living a good life and enjoying college so you don't have to spend all of your hours working. I used this scholarship to help out with living expenses for college and it eased the pressure on working so much. Shout out to Stats Medic!
You can learn more about Math Medic Foundation Scholarships and Grants, including how to apply, here. If you have questions, please contact us.
01/17/2022